Game Information
Creator
Flora*Float
Medium
[Version or Program used to make the game. Ex: RPG Maker VX]
Genre
Romance, Yaoi, R-18
Language
Japanese
Game Version

Demo Released for Download

Buy Full Version

Game Status
Finished

Website
[Placeholder for game page, to be updated at a later date]
Also known as: 暴君とショコラーデ
A Prussia/Austria game, it is R-18 and both a demo version and full veresion are released. The full version is availible for purchase and the demo version is 52.4MB in size.
Game Plot/Game Summary

Edit
Characters
Edit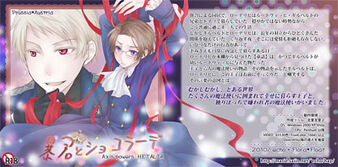 Trivia/ Extra Facts
Edit
Ad blocker interference detected!
Wikia is a free-to-use site that makes money from advertising. We have a modified experience for viewers using ad blockers

Wikia is not accessible if you've made further modifications. Remove the custom ad blocker rule(s) and the page will load as expected.