Game Information
Dreamtalia: Chapter Zero
Creator
RussiaAdvice
Medium
RPG Maker VX Ace
Genre
Adventure, Dark Fantasy
Language
English
Game Version
N/A
Game Status
Under Development
Website
RussiaAdvice
Dreamtalia: Chapter Zero is an English-language game created by RussiaAdvice with RPG Maker VX Ace. It is the prequel to the game Dreamtalia by KyoKyo866.
While there is no playable demo, Kyokoon64 played a preview of it to show the games plot/gameplay of the beginning and small bit of the ending, shown here
Game Plot/Game Summary

Edit
A prequal to the popular Dreamtalia series, this game takes place not too long before Fauchereve discovers the nations, and shows how he learned about Nation-kind at all. The eponymous 'Reve' is given a brutal lesson in humanity as he and the other Arcana ensnare a victim that they weren't prepared for, who demonstrates that love and kindness hurts as much as it helps, and whose actions set in motion the dramatic events of Dreamtalia and its eventual end. 

Even a heart hardened by centuries of pain and loss can still crack and break.

Characters
Edit
Ivan Mikhailovich Bazarov [Vanya]

A personification of the Russian city of 'Novgorod'. Shown as an aging old man with brunette hair with a white streak in it. He's the chosen host of the Fauchereve and had seemed to bond closely with both him and the Arcana's themselves.

Fauchereve [Reve]

The very same from the normal game Dreamtalia, but due to circumstance has chosen a new form of his own to disguise himself in, having curly brown hair and freckles.
Bug Reports/ Errors
Edit
Trivia/ Extra Facts
Edit
While the game is being made, the creator had made voice drama's depicting some of the events that will happen into the game.
1899
Reve and Vanya taking a walk through a memory of Vanya's.
England's Visit
All ready having fallen asleep and not to wake, Russia and England have no idea what could be wrong. England may have a slight idea what it could but there was no clear evidence.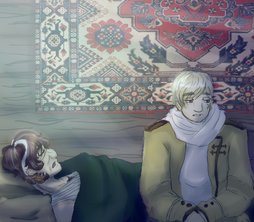 RussiaAdvice's dA (where all the updates are) - here
Part 1 of the video showing the gameplay - here
Ad blocker interference detected!
Wikia is a free-to-use site that makes money from advertising. We have a modified experience for viewers using ad blockers

Wikia is not accessible if you've made further modifications. Remove the custom ad blocker rule(s) and the page will load as expected.