Game Information
House of Winter
Creator
Kyokoon866 and Dignified
Medium
RPG Maker XP
Genre
Comedy, Suspence
Language
English
Game Version
V.1.0 - Demo
Game Status
Ongoing
Website
Kyokoon866
House of Winter
(also called
Let snow
) is an English-language game created by
Kyokoon866
(or, her pseudonym, Kyo) and Dignified, and is made with RPG Maker XP. It's currently ongoing since its debut on deviantArt in October 2016. Currently the game only has a demo.
Gameplay Edit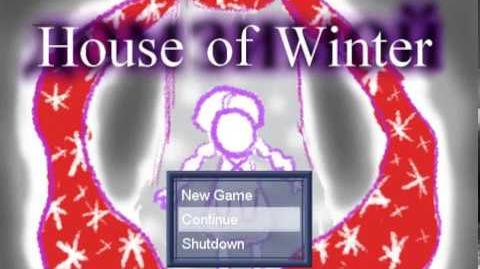 Setting, Characters and StoryEdit
Characters Edit
Protagonists Edit
Sealand
Molossia
Wy
Seborga
Kugelmugel
Hutt River
Ladonia
Ad blocker interference detected!
Wikia is a free-to-use site that makes money from advertising. We have a modified experience for viewers using ad blockers

Wikia is not accessible if you've made further modifications. Remove the custom ad blocker rule(s) and the page will load as expected.